UK Supplier Of Portable Counters For Promotional Sales, Demonstrations & Trade Show Events
Portable counters for promotions and everyday branded display stand marketing use, custom made presentation counters suitable for a wide range of services, ideal for company products and brand marketing. Every promotional counter is custom printed exhibition pop up counter and manufactured with your company logo and branding design and are suitable for indoor and outdoor use in exhibitions, trade shows, conferences and events. We have portable counter displays with internal storage, to store products and literature.
For more options on work desks and related products for simple promo exhibiting and promotions see our other categories that might help you pick the right exhibition stand or exhibition banner stands. Need design guidance or just more information pleases call we are here to help. From weights sizes and dimensions and simply advice on the best solution for you.
Exhibition Counters & Display Plinths For Food Sampling Stands
If you need any kind of exhibition counters or portable promotional display case stand, then talk to us. Stand Banner have a wide selection of promotional counters to suit your every display and marketing requirement. All food counters are designed to suit different marketing requirements and budgets. We also design and print presentation counters or some times called promotional counter for every product need, from large portable marketing desk to small exhibition display plinths. We design and manufacture for small independent companies to large blue chip internationals and deliver the same quality of service and expertise for all our clients from large food retailers to electronic giants if you need a reliable high quality and easily portable counter, then look no further than Stand Banner.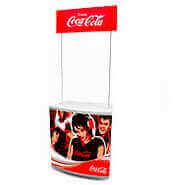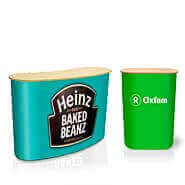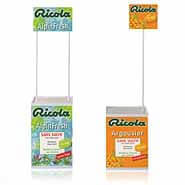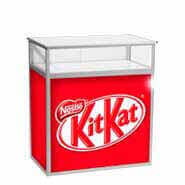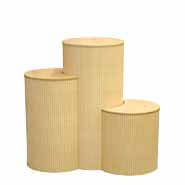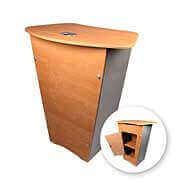 Custom Printed Pop Up Counters With Branded Graphics For Promotional Advertising
Branded counters including portable branded information desks are easy to transport and assemble for information or brand marketing at any product launch or related promotional need. Printed from your supplied design or we can design and print your exhibition stand for you with the minimum of fuss. Company corporate branded display case for advertising and product promoter and product launch including tasting and surveys and information points. Designed for many different companies uses, available in a selection of sizes for indoor and outdoor use.
All our display stands are printed at the highest quality on durable hard wearing material designed to endure heavy use. High fidelity graphics with photo likeness and bright vivid colours. Please note that in nearly all cases we can supply easy fit replacement graphics so your promotional counter is far more versatile for a wider array of products and services than our competitors, allowing for quick change of product line promotions or alternately if you want to change your counter for seasonal change event graphics or weekly or daily promotions or incentives.
Portable Display Table & Food Counters For Vending & Sampling
Stand Banner is a leading UK supplier and manufacturer exhibition pop up counters and portable promo desks and counters for promoting food and drink based products from wheeled sampling stalls to mobile food counters. We can design and make custom and bespoke counter systems tailor made to suit your brand and marketing requirements no matter what they are. Ideal for outdoor food tasting and testing new brands and products. Commonly used by big brand advertising companies to launch or gauge new products on consumers.
Trade Show Counters For Trade Fair Event Promotions
These items are portable and designed to be used to promote or promo your company. Promotional counters often called promo items are used to achieve greater product and brand awareness at events or general high street marketing where you need a portable counter or desk to view products or to write. Flat packed PVC stand that folds down into a convenient carry bag for sales executives and company employees. Convenient and affordable stand that can be used time and time again to generate sales and brand awareness in the high street, shopping Centre or at exhibition trade shows. Simple and easy to erect most portable counters are designed to be simple to erect, carry and store. These counters and desks require no tools and use often a push locking mechanism or alternately magnetic fixings.
Mobile Pop Up Bars And Sales Tables With Custom Graphics
Stand banner understand the need to promote your company, product or service and also the idea that you can generate much needed revenue in any location outside of the conventional. We supply portable bars and vending counters, suitable for a wide selection of uses but mainly for food or beverages like Beer, Coffee, ice cream or food based products like Indian cuisine, Italian, American, English and confectionery. Along with the fact that you can gain sales at outdoor or sporting events or festivals these vending counters are also ideal for product launch or market research and can test or sample your product before general market launch or if you have a smaller company can be used for much needed income. Commonly used by both small and large concerns for a wide selection of uses, wether your a micro brewery, gin distillery, cottage wine vintner or chocolatier. The list is endless for the companies that can benefit from promotion and vending.
Wheeled Hot Food And Beverage Serving Carts For Vending Outdoor Gastronomic Catering
Mobile food vending carts with built in cooking machinery designed for specific uses like frying foods or boiling foods like hot dog carts. Made from stainless steel and supplied with everything you&39;ll need for a gastronomic business that can be used to sell hot food, beer, soft drinks and more. Wheeled vending counters are ideal for sporting or music festivals, fairs street food eateries. Designed to be a stand alone mobile cart, complete with full colour graphics for your corporate brand. These Bain-Marie vending carts can offer a wide selection of cooked products to sell, like Chip Fries, Chicken, Sausages, Fried Mozzarella Sticks, Onion Rings, Samosas, Fish, Battered Burgers and even Droughts. Basically anything that can be deep fried or boiled.
Beer vending is a must for small micro breweries and even large recognised brewers that want to sell they&39;re beer, larger or IPA to the general public, outside in all elements or locations. Self contained and easy to transport to venues this beer vending counter cart is purpose built to hold a barrel of bier and storage for other uses. Simply wheel your cart to a chosen location, lock the wheels and start pulling pints of beer. Perfect for vending in remote or difficult to get to locations, where there is the potential for massive returns on revenue, places like outside sporting stadiums before and after they enter the ground or at the beach promenade, park and festival parades. Supplied with your company graphics on all sides and including printed branded parasol to add to the visual impact on the high street.
Corporate Branded Exhibition Table Desk For Sales And Promotions
An essential part of marketing is a branded table with your company logo, product or message in an event is often embellished by branding your table or desk where there is a functional element and cosmetic. A branded table serves as a Centre piece in a conference, seminar or exhibition and is of practical use for using laptops or display products. Our branded exhibition tables have either a stretched Lycra covering, bespoke printed tablecloth and also printed table runners for a more cost effective solution. Often used in conjunction with a larger display that incorporates roll up banner stands.
Who Sells the Best Promo Counters In The UK?
Well us of course, with over 25 years , day in day out producing the finest counters, money can buy. We are the best advised and fastest producer of bespoke portable furniture that is designed to be used time and time again, not like our competitors, that are happy to see you use the product once and then discard it as it is not fit for a second use.
We sell the best and we are the best at what we do. Order your display today and have peace of mind that your display is going to be the best.
24 Hour Express Service UK and Europe
Fast UK delivery for all your portable marketing needs from product display stands to retail marketing stands, we can delivery within 24 hours or standard next day to the UK and Europe. Simple cost effective solution for design and print with easy payment methods including PayPal and Trade Account.