UK Supplier Of Roll Up Banner Stands & Retractable Banner Displays For Promoting Your Business
We design, print, and manufacture a variety of lightweight portable banner stands for every event exhibitions and trade show needs. We have a selection of display banners in 85cm, one metre, 1.2m, 1.5m, 2 meters wide, 2.4m and three-metre width for every eventuality and requirement, from lightweight roll-up to retractable banner stands UK. Our retractable display systems come in a variety of sizes and styles to suit your needs, from best price promotional banner display quite simply we have the lot and on many of our trade show we can deliver within 24 hours anywhere within the United Kingdom. Why not visit our London showroom to see all our standing banners with stand we have to offer.
A high standard long lasting big banner stand system for frequent use trade show exhibitors. Multiple use portable event display banner stand often used as short term promotional retracting advertising banners, where you need make a big impression or used as an events backdrop for red carpet events, company presentations and award ceremonies. High quality durable retractable standing displays designed for long term use. Choose from eight super wide sizes, with varying heights. Custom options available on request for two metre plus solutions.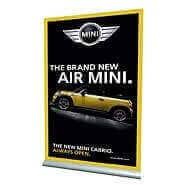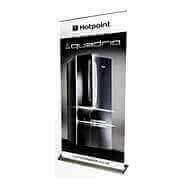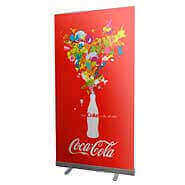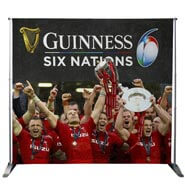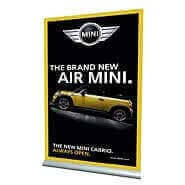 Retractable Banner Stands Systems & Roll Up Banners For Trade Shows & Exhibition Events
Roll up banner stands are the most popular, lightweight and easy to use the retractable banner system on the market. There is a backdrop banners for every occasion and any budget to make your company and promotion stand out from the crowd. They come in a wide range of sizes of heights and widths. Choose an economy if it is for a short promotion, or a premium roll-up banner when you need a quality product is required for extended use and transport. Size is important you need to consider the space available to the environment. There is a selection of material available for the graphics ranging from vinyl, polyester or textile fabric to choose from so that you have a superior finish. All the cassettes stand, bungee poles and sure grip hangers are made from strong aluminium which can be recycled, they take only minutes to erect and disassemble. The banner standee come with a strong black lightweight carry bag individually packed in high-quality cardboard cartons which are ideal for transporting to different events.
These retracting banners are widely used at trade shows, shopping malls, reception areas to restaurants and bars. Getting your message across is so important for your company and marketing promotions, it is the only thing customers will see when the banner is assembled.
Portable Free Standing Banner Standee For Business Promotional Marketing
The roll up banner stands is a durable robust stand providing you with the perfect semi permanent display. The base is made from strong high-quality metal designed to support your stand with thick bungee poles and sure grip mechanical top hanger. These retractable events backdrop standees are used by professional exhibitors for the high-end marketing. They range in size from 600mm up to 2900mm and come in a superior heavy duty nylon shoulder strap bag. They are ideal for heavy footfall areas such as Shopping malls to sporting events. All graphics are printed to a high quality with no curling or de-lamination, easy to assemble and take down, the graphics are always protected when they roll back into the base. They attract lots of attention a firm favourite at events and showrooms with a long life expectancy. We pride ourselves that our customers and clients have had a successful advertising and promotional display stand. Creating an eye-catching visual stand that demands attention at any venue or event. Our range of high-end retractable banner is designed to suit every possible promotional requirement and budget.
Display Banners With Stand For Company Promotions
Retractable stand banners are a low-cost effective way to advertise your company and products. The carbon fibre rods with snap rail with a sure grip, slim profile are easy for a graphic change. The retractable banners is quick and easy to assemble and adaptable for most environments. An ideal banner for point of sale, retail display or exhibition events. One of the most popular low-cost banner stands, making a visual impact is important to catch peoples attention. Make your business stand out in a crowd or have this stand outside your shop, cafe or bar.
These low-cost rollup banners are very popular with charities, schools, business who are on a tight budget but want a high-quality stand. The graphic is printed to the highest standard making a clear image, we use an echo friendly solvent ink which is waterproof and hard wearing. We have sold hundreds of these events backdrop roll up stands for short term use to our customers who range from small companies to multi nationals both in the UK and EU.
Simple functional and easy to use, free-standing retractable banners are commonly used for conferences, company seminars and related venues. Trade show stands are ideal for entry level exhibitor for your first-time trade fair. Best price solution for cost effective large scale marketing campaigns that require high volume numbers of retractable banner stands for product launch or services.
We deliver high quality affordable environmental durable roll up stand with banners that qualify for huge savings on trade prices without compromising on quality. All our double sided stands are made from recycled aluminium and qualify as a green solution to companies concerned for our environment.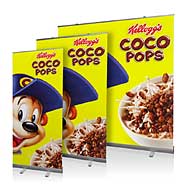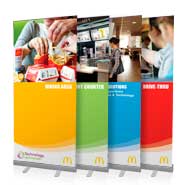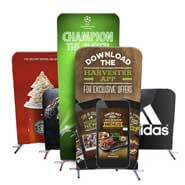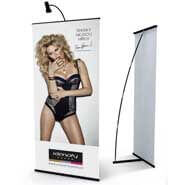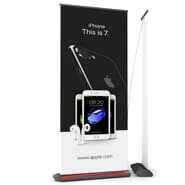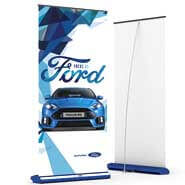 Double Sided And Outdoor Banner Stand Systems
Our double sided retractable banners are made to create a dual aspect to attract attention from all directions. The base and poles are made from high-quality recyclable aluminium and come in two sizes 85mm and 1000mm. All our banners are rigorously tested to conform to the highest standard. They are super easy to erect and dismantle in minutes which gives your company more time to talk to customers. These double sided banners can be used for sales presentations or incorporate it into a large roll up exhibition display. The ideal place to display is where visitor traffic may approach from either direction such as exhibitions or where there is a guaranteed foot fall. It has a class 1 fire rated certificate. Making the right stand with a good solid design can speak volumes about your business, products and services. These stands are seen at trade shows, conferences, job fairs where the stand does all the talking.
High-Quality Banners And Stand For Seminar And Conferences
The name exhibition roll up banner is a reference to the retractable mechanism within the base that allows the stand to be rolled up in seconds. The graphic attaches to the mechanism and rolls up inside the base for protection in transit and storage. There are many kinds of stand up banners, from cheap, entry level models to mid-level and high quality stands. Our roll up banner displays is supplied with a manufacturer hardware guarantee and come in many different styles and sizes. You can also choose from internal, outdoor printed graphics. These advertising banners can be used as stand alone items or as accompanying displays for larger stands. They can also be used as an alternative to banner with stand as they are available in sizes up to 2.9m wide. Retractable banners are convenient, versatile, and economical, which is the reason for their popularity at exhibitions, trade shows, and similar event signs.
We supply rolling motorised systems that are ideal for scrolling advertising screens and promo marketing poster promotions with a continuous loop of the banner. Used to promote and advertise multiple products and services with a single or double sided display banner that is free standing and portable. Easy change graphics allow for multiple products to be exhibited on a scrolling banner screen. Durable HD quality printing on fabric for long term or short term promotional signage. Scroll sign advert for use in shopping centres and mobile situations that require animated and visual poster graphics.
Portable Banner Systems For Trade Fair Exhibiting
Exhibition banners are a quality robust stand that has a long lasting life. They come in sizes ranging from 800mm to 1200mm with either a narrow base with folding feet or a wider base made from durable high quality recyclable aluminium materials. The full package includes printed banner, stand and carrying case. These self-standing retractable banner stands are widely used at trade shows, corporate events, showrooms and exhibition events as they have a professional look that gets the job done. As the banner is spring loading self-winding it is simple to erect and dismantle in minutes making transporting and storage easy. It is a very popular stylish stand with above average wear and tear. making it ideal for a heavy footfall of people.
Reliable and affordable long lasting durable lightweight stand alone system that is designed for users who require a simple yet mobile stand that takes just seconds to erect and dismantle no matter the width. This stand comes in a wide selection of roll-up banner display sizes. Used extensively by sales managers, retail and marketing teams world wide to convey information or advertise a product or service.
Signs supplied with superior standard graphic and assured durability for many years. Also available is retractable display signs options with optional graphic design service for all your trade show needs.
Large Free Standing Stand Up Banner For Promoting Your Business
Durable event stands with premium quality attributes for serious exhibitors. Medium quality retractable banner is portable but can be used as a semi-permanent showroom stand in company receptions or as a marketing stand for trade shows or company presentations. Ideally suited as a larger back wall with its stable structure for use in areas with high footfall and heavyweight recoil banner mechanism giving this stand more recoil and less curling edges for long-term exhibiting. Multiple sizes available up to three meters wide (10ft x 8ft) event display system. Tear-resistant mat finish photo quality graphics with a flat finish, suitable for photographic uses.
Used as a photo backdrop at film premieres and similar VIP or celebrity occasions. Supplied with padded carry case for medium to high-end use and comes complete with a five-year hardware guarantee.
Wide And Tall Backdrops For Big Event Advertising Promotions
Stand up banner supplies a wide variety of stands designed to be different and make you stand out from the crowd. Backdrop stand banners can come in all shapes and sizes and styles, also we speciaise in tallstands for more promenant marketing and crete a much more demanding visual impact from further away, locations like shopping centres, exhibition trade shows and sampling stand displays.
If you want to get your company, brand or business noticed, bigger or different is usually better and with our 3m tall roll up banner stands you can be assured to turn some heads. Tall banner backdrops are easy to construct and take only a minute to put up, with its simple telescopic pole. Please note these large display stand banners with retractable mechanism, come in a selection of widths from 80cm, 100cm 120cm, 150cm and 2 Metres wide wide.
Fast 24 Hour Delivery UK, Europe & Worldwide
Low cost indoor retracting banners for temporary short term banner promotions. Cheapest cost effective roll up banners in our range. Ideal for in-store budget promotions and light use entry level exhibiting. All display systems are supplied with printed poster graphics supplied by our London printing company for trade show exhibiting.
Alternatively, you could opt for medium quality stands with 100% guaranteed next day delivery.Simply choose your desired width retractable stand up banner and then choose the time you want it delivered, we offer express service in the UK and FedEx for international deliveries. Order Before nine am and get your 24 Hr banner stands delivered directly to any UK or London exhibition venue, including Excel, Birmingham NEC, Olympia and the Business Design Centre.
Fast UK delivery for all your portable marketing needs from roll up banner stands to pop-ups we can deliver next day to the UK and Europe. The simple cost-effective solution for design and print with easy payment methods including PayPal and Trade Account.
Trade Supplier For Ultima, Easystands, Nimlok, Nomadic & Plex Display
The UK best known and most popular supplier of high-end quality advertising pop up banners manufactured for every eventuality and exhibiting requirement. Top quality reliable hard wearing free standing banner systems from Ultima Display. The widest selection of roll up exhibition stands, like Ultima Blade, Grasshopper, Barracuda and Excalibur.
Portable exhibition stands with a range of styles and designs for every event seminar or product exhibiting. Ten-year guarantee on this product for Sidewinder banners, genie free standing banners and Omega fabric. for more information on Plex Display please click the link.
Graphic Design & Printing Service
Fast friendly qualified design service for all your graphic needs. London based design company for cheap graphic design on all you are marketing needs. Simple cost effective visual solutions that have to affect Professional designers with over 30 years experience in the banner stand backdrop industry.
UK Supplier of Expandable Banner Systems
The versatile expandable banner system by stand up banner allows you to expand your display systems into a seamless wall for exhibiting event graphics. The range of accessories to complement your stand including built in LCD advertising banners and integral literature dispensers as an add-on feature. Retractable banners can curve into interesting shapes and allow you to create curves and right angles to fit any shell scheme stand, create new and interesting backdrops for any exhibition no matter the size. Ideal for the exhibitor who is expecting attending multiple trade shows with differing sizes.