UK Supplier Of Exhibition Stands And Trade Show Displays For Promotional Events And Advertising
Exhibition stand manufacture bespoke exhibition stands for all your promo needs, from trade show displays to seminars and conference events in UK, we have got it all. Our display stands are extremely versatile and can be custom manufactured to suit your event stand space. Our marketing displays have numerous options available for any solution. We also have bolt on accessories including LCD brackets and literature shelving and so much more.
UK supplierof a wide range of portable promotional exhibit show displays for all weather, waterproof, external advertising, promotions. Our product range includes marketing stand banners, printed exhibition backdrops, demonstration and sampling counters for outdoors. If you have an outdoor trade fair or festival, then an all weather display is essential. These trade fair stands are designed to withstand reasonable amounts of wind and rain and many of our range can be weighted with water or sand to maintain stability in less than ideal conditions. We print and manufacture every kind of marketing banner displays for external advertising. We can design everything your company needs to make that promotion special. All our event stands are printed with waterproof and UV resistant graphics, that will last for years in the elements.
Probably the best known company in the world by our competitors for unmatched design and print quality. We set the bar at exhibition stand banner for the elite event company signs. Why, well because we are one of the few companies in the world recognised by adobe and HP for print excellence, in fact any stand or marketing stand material in portable form will be printed by us. Well what does this mean?. It means that stand banner is a cut above the rest.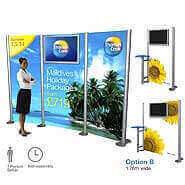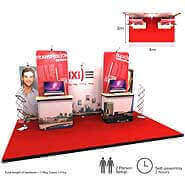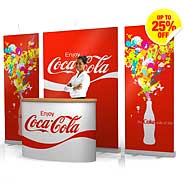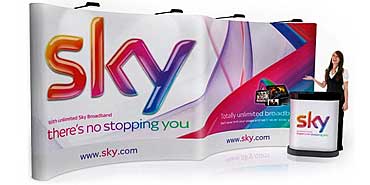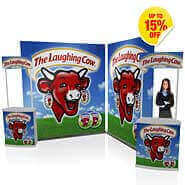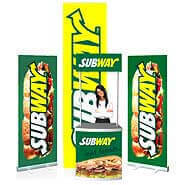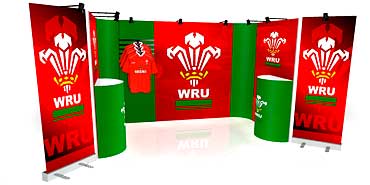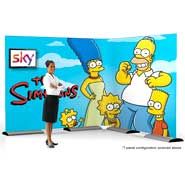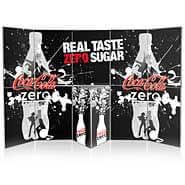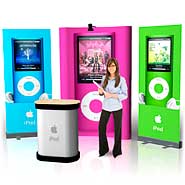 Custom Made, Promotional Display Stands For Event Stand Demonstrating, Conferences, Seminars & Sampling
We build every style and size of display exhibition stand banner for all you are folding exhibiting needs from simple expo systems to trade show booths. Stands are custom made to suit your companies requirements and printed with your company logo for the complete branded package.
Simple and ready to erect for any trade fairs or events. Most screens require the minimum of effort to erect and dismantle and can be easily stored for your next venue or trade show. Ideal for beginner and professional exhibitors alike, Multiple configurations and sizes available to fit your floor space or marketing requirements. Easy change roll up graphics are perfect for long term use and even short term depending on your marketing needs.
Marketing stand banners are also used as promo stands or for shop promotions or in retail. Stand alone stands are often used to promote a product or brand and come in many shapes and sizes for different uses. Exhibition display stands as they are some time called often include a counter for demonstrating and storing products, often used as a sales promoter or brand promotion unit that might be used in demo situation in store or shopping Centre to promote and market products. Commonly used to push food related products, including refreshments, beverages and snacks.
Portable Exhibition Backdrop Stand For Freestanding Promotions
Exhibition displays are ideal for portable retail demonstrating stands are used up and down the country for in-store sales to motorway services these stands promote and market your company with ease. Pop up exhibition stand systems are suitable for use in doors for a much larger presence. They are easy to assemble and transport from venue to venue.
Shell scheme stands are ideal for medium to large size stands at exhibitions, trade shows and related venues. Exhibition graphics are portable and come ready to install for self assembly by one to two people. These stands give a very complete finished look as they are free standing and create a booth like feel around your display with branded backdrop graphics. Choose from cheap solutions and alternatives to complete custom bespoke backdrop marketing walls that can be used time and time again at any venue.
Commonly used by professional marketing companies to exhibit a wide range of products and services. Simple cost effective system allows you to change your roll up graphics quickly and simply for instant brand change. Often used by business that require a versatile option for multiple events and shows.
Promotional Displays & Marketing Stands To Advertise Your Company At Trade Fairs
Need to create a cosmetic event marketing backdrop for your brand or company products?. We can help, with many years in commercial printing for big brand advertising, we can advise on what is the best solution for you and from start to finish you will be safe in the knowledge that we print and design everything in house.
We specialise in entry level pop up trade show graphics to high end solutions at affordable prices, that have the highest resolution printed graphics on the market, that are designed to last for many years and visually look as good as they did the very first day you exhibited it. Often used by business that require a portable system that is simple and cost effective for multiple shows and trade fairs throughout the year. Free standing display that takes only a few minutes to erect and is a complete stand alone stand (supplied with B1 fire rated graphics) that is branded with your logo or images and is an impressive backdrop to display products in front of or demonstrate.
Exhibit Stands For Demonstrating And Promoting Your Business
Convenient and simple to use for company services or as a sampling stand. Designed to be flexible for a variety of uses where food can viewed or tasted. Commonly used in new product launches where companies need products tested or reviewed by the public. Completely mobile branded exhibition stand backdrops that are durable and hard wearing and come with hard wear guarantee. Selection of consumer stands to display electronics including iPad stands and LCD exhibition stands for retail promoting.
We are here to help, if the stand you want is not in this category, simply call us or email for a bespoke or custom option that meets your needs. Stand banner, the people, being the people.
Bespoke Design Service For Corporate Companies & Businesses
Why not try us for all your adverting stands design and printing needs, when investing in a new trade show stand or display board, we can provide one of London most competitive rates for exhibition design and not only are we well priced but have even been nominated for multiple design and innovation awards.
All our designers have a minimum of ten years experience and have worked on thousands of projects for these kinds of stands, so we fully understand what works in design and implementation of print.
Fast Free UK & International Delivery
As part of our widening global service we offer to nearly all the countries of the world our products, from Dubai to Paris, we can deliver any size stand you need. Whatever your business requires and wherever you are in the world, we are there for you, simply email or phone, one of our professional sales advisors is there to help. Do not forget we also offer a very fast and even next day service on many of our products from exhibition banner.