Exhibition Banner Displays Company Stand Banner
Free friendly advice from London's premiere exhibition stand printing company for exhibitions and events in the big city. If you are visiting London for an event and you need a portable big banner stands then look no further. Stand Banner London is in a class of it's own when it comes to choice and expertise for portable marketing equipment that is lightweight portable and very high quality.
Exhibition Banners For Portable Exhibiting
Why use us for all your exhibition equipment?. Simple with so many years experience in the field of digital printing for trade shows and conferences throughout the UK and event to Europe and east. Our service is international recognised for producing the highest quality roll up banners on the market and set the persistent for superior quality stands, from the biggest to the smallest you can guarantee the very best quality for exhibiting.
With many years in the design and printing of exhibition banner stands specifically for exhibition events at a higher standard. Stand Banner lead the way with top quality designer stands at affordable prices but with no compromise to quality or excellence. Many of our displays are considered elite in the area of exhibitions and trade shows and are often considered the bench mark for excellence from superior quality pixel sharp printing to hand finishing, we set the bar high.
Exhibition banners come in many shapes and sizes and differing levels of quality. For more information and direction towards the most suitable banner stand for you call or e-mail us for advice, from choosing the correct size to other alternatives for your conference presentations or simply choosing the best stand within your budget. Many of our banners are available in nearly all widths for internal use, most start at a standard 85cm and then increase to a very popular 1 metre and then 1.2m, 1.5m and the 3 metre wide banner stands and if you really want to make a statement we do the biggest banner stands company money can buy.
Roll Up Banner Displays Easy To Set Up
This style of stand is a good entry level system but with a slightly higher quality cassette and graphic this stand steps up from a economy display Into a medium level premium solution suited to any and all requirements for internal use including the option of retail with its UV stable graphic and stable foot print which alleviates any chance of the display being knocked over. For more information including videos and prices on our pull up banner displays please select the link provided.
Commonly used as a portable marketing and advertising banner display by sales and retail executives as it is lightweight and portable yet delivers a sturdy display with a high quality cosmetic graphic. Don't be fooled by imitation, there are thousands of these stands produced every year but so many are cheap imports not fit for purpose, from inferior quality mechanisms to poorly printed graphics. Trust us we only produce stands that are going to last for many years with same quality that it delivered on day one.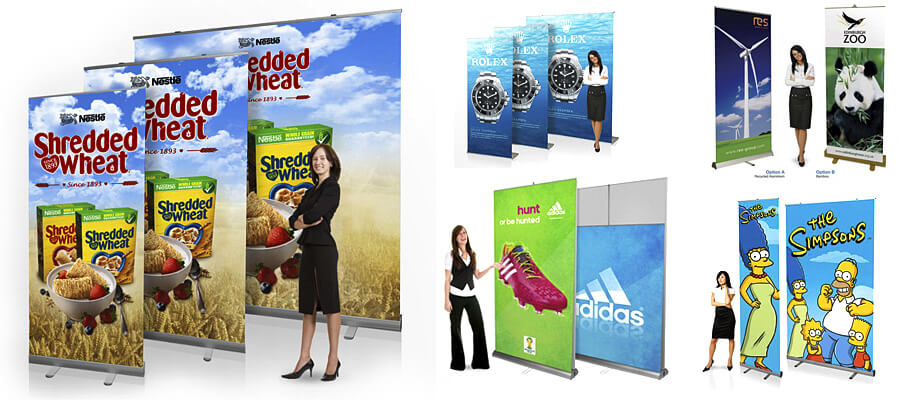 Banner Stands UK
Trade only supplier of bulk volume banners for competitive high volume static marketing from retail to restaurants, whatever your business we supply banner stand company UK for Professional and major marketing campaigns that require large number of displays to be exhibiting at multiple venues or chains. We also offer international delivery to Europe for companies requiring they're banner stands UK to be delivered overseas as more of a worldwide marketing campaign.
Based in the UK we are proud to say we produce all our displays in house and do not out source any of our printing or finishing abroad, that allows us to maintain a superior standard to many of our competitors. Rely on us to deliver on time every time within 24 hours in many cases on a wide selection of quality products.
Exhibition Stand Printing Company
If your in London and caught out for a need for fast portable display service call in to our London office to see how we can help you. See many of our exhibition banners and similar display products in the flesh and get free impartial advice on what is the best solution for your show seminar or general advertising requirements.
Based in London we are best advised to deliver your exhibition stand and all it's needs to your London venue. From simple cost effective digital printing for pop up stand graphics and even printed wallpaper. Whatever your printing and design requirements do not hesitate to call for free impartial advice on anything and everything to do with exhibitions and exhibiting. We pride ourselves on being London's number one exhibition printing company.