XL Pop Up Stands For Promoting Your Business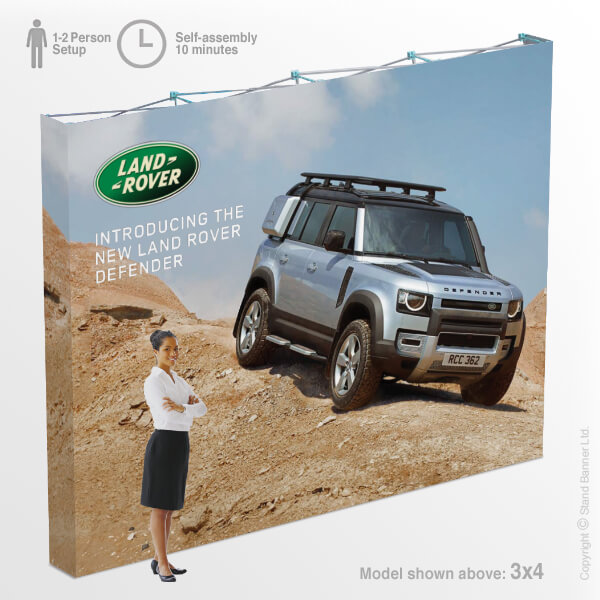 Make A Big Impression With XL Pop Up Stands
Stand banner is proudly offering this exceptional extra large exhibition pop up stands, perfect for all exhibitions, marketing displays, and promotional events. we at stand banner strive to be able to offer you the best products that are going to support your advertising for your branding. This back wall display is perfect for adding that additional display area without the assembly time that would be required by a traditional panel pop up. This designed pop up has been designed for easy transportation, it can be set up within minutes, hassle-free. The majority of our products all come with an easy transportation carry bag. This product comes with a strong aluminum frame, custom printed polyester graphics, and a wheeled padded trolley bag. Stabilising feet are also included to help with the. All of our products here at Stand Banner are printed and manufactured in house where we have full quality control to ensure that each and every product is produced to it's the highest standard. Our Extra large pop up stands come in a range of different sizes, to suit your vision. Available up to 3m tall x 4m wide (approx.) 
Display and Printing
We at stand banner have a specialised team that works closely on the production and manufacturing of each and every product. We use only the best HP latex inks that are environmentally friendly, we strongly believe in supporting our ecosystem, we use the CYMK process for the majority of our printing to ensure durability and intense colour. traditionally pop up displays generally rely on rigid panels that are attached to the frame in individual sections using magnetic tape to secure. while these pop-up displays are seen as reliable and relatively inexpensive they also take up an excessive amount of space. In relation to the new up and coming fabric displays, they are much lighter, easier to set up. this makes them easier for events, easier for transportation, and set up time is limited. The fabric is truly seamless with an array of colour and no panels, so no joints. We sell only the best products and believe in this product to be reliable and cost-effective. 
UK & International Delivery
Stand Banner has a fantastic customer service team here that are here to help. We use the best-rated delivery companies that support us in our international shipping. We offer a service that gets your products to where ever it needs to be whether it's in the UK or America. As a company, we understand the importance of needing something sometimes last minute that's is why we offer 24-hour customer service in helping you get products on time. We have connections all over the world with companies that want that little extra for their exhibition show, including those regular customers such as Fox, Husqvarna, Einhell, and Airsoft Pistols for their trade shows. this just adds that little extra in helping your company succeed. For more information contact Banner Stand .

---