Twist Banner Stands vs. Stealth Banners
Wednesday, March 26, 2014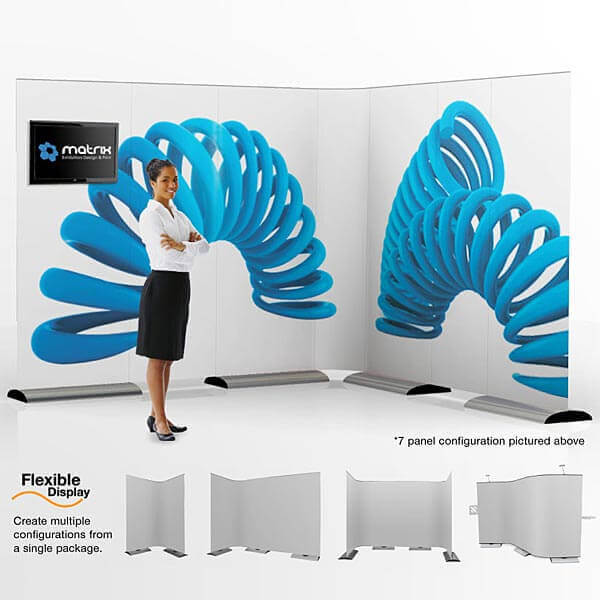 Twist Display Banners from Stand Banner
Probably the most versatile exhibition stand on the planet and in my opinion the best stand for the professional exhibitor, who is looking for a trade show stand that is able to meet your differing requirements no matter what. Banner Stand offer the complete package solution from concept design to print and manufacture for the complete one stop shop in London.
Stealth Banner Stands for Trade Show Exhibiting and Exhibition Marketing
Flexible banner stands are becoming increasingly popular as an alternative to less versatile displays such as pop up stands and conventional banner stands. There are two main types of flexible displays – Twist roll up banner stands and Stealth banner stands. Twist are a popular brand of display stand that have the ability to twist (as the name would suggest) and flex to different shapes and configurations. Stealth banner stands do very much the same thing, being designed to work in the same way, but at a reduced cost to the exhibitor. The nature of these stands means that they can be used and reused at various events, even in different sized exhibition spaces, due to their physical flexibility and expand-ability. Twist and Stealth banner stands are almost modular in nature, allowing you to connect and disconnect panels when required. Flexible / expandable banner stands can be increased and decreased in size to fit into a variety of spaces. This is extremely useful, especially when hiring shell schemes that are so popular at many exhibitions and promotional events. Both Twist and Stealth banner stand company are focused on versatility, and both are made to high standards, but for overall cost-effectiveness, Stealth banner stands come out on top.
Exhibition Design and Printing
Stand Banner and design offer the complete one stop shop for high end corporate design and printing for portable pop up stand and modular displays. Our design team have many years experience in graphic design for events and exhibitions. We can brand your exhibition backdrop so that it is an extension in all aspects of your existing corporate branding. We use qualified designers unlike many of the competition that are self taught.
For more information on our products and services call our sales team on 01639 895694
---