Trade Show Pop Up Display Stands
Wednesday, February 5, 2014
Custom Trade Show Pop Up Display Stands – A unique display alternative
A pop up stand is one of the staple pieces of exhibition equipment for anyone exhibiting at a show. The size of your stand will be dictated by the space at your event but you will probably end up with either a 3×2, 3×3 or 3×3 pop up display stands. The curved version of these stands are the standard type that most people use, but do you really want to be like everyone else? If you are at an event with companies that you compete against then you'll want to stand out from the rest with a display that is unique.
There are a number of ways that you can make your exhibition pop up display unique. You can increase the height, increase the width, and even change the shape of the stand by using a combination of pop up frames creatively.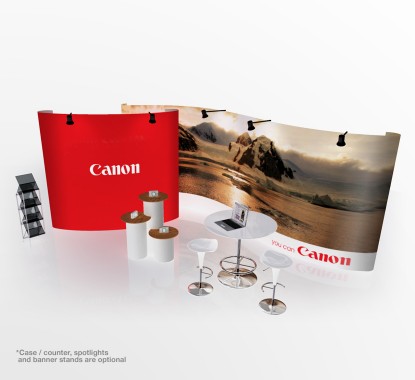 Joining stands Your Pop Up Display Stands
Pop up frames have the ability to be joined together with the use of 'ghost' panels. These are single panels, exactly the same size as any other panel on the stand but instead of being attached to the main frame, the graphic is used as a joining panel between two separate frames to give the appearance of one seamless stand. This opens up all kinds of possibilities when you think of the combinations that could be created. For example, two curved stands can be joined, one facing forwards and one in reverse. This will produce an 'S' shaped pop up stand display stand that will create a gentle in and out curve. This can also be double sided if you decide to use it as a centre piece to your display.
You can also make some interesting shapes by joining pop up frames at 90 degree angles to create stands that will fit perfectly into the corner of your display space. If straight stands are used then they can be extended as far as you want, covering your entire display wall if needed.
Varying heights Pop Up Systems
Although most pop up display stands are 2.2m high, there are taller stands available that will provide extra visual presence for your display without taking up any more floor space. A standard 3×3 is divided up into three units high by three units wide. Each unit is approximately 74cm x 74cm so a taller stand, a 4×3 for example, would be four units high by three units wide. This makes the stand the same width as a 3×3 but almost 3m tall. This is guaranteed to stand out amongst stands that are all standard height. It also gives you more versatility for the design of the graphics for your stand as you now have more space to work with. For more information contact Banner Stand.
 Accessories
Whether you decide to use a standard sized pop up display stands or a unique, custom stand, there are a number of accessories that you can add to your stand to make it more than just a place to display your graphics. There are integral display shelves that can be incorporated into a stand as well as literature shelves for the display of company brochures and booklets.
Whichever pop up display stand you decide to use, the most important thing is that you create a display that is eye-catching and represents your business effectively.
---