Roll up Banner Stands Buying Advice
Friday, February 14, 2014
Roll up Banners 

Roll up banners are available under various different names – display banners,  roll up banner stands and exhibition banner stands, plus many more. Despite these various names, the basic system is the same; a printed graphic is attached to a system that recoils inside a protective metal casing for storage until the stand is required. When the stand requires assembly, the graphic is unrolled and attached to a pole that slots into the metal casing.
The average size of a fully assembled roll up banner stands is 85cm x 2m. This is usually enough visual area for most, but on occasion a larger display area is required. This is when big banner stands come into play. The largest banner stands come in sizes of up to 2.9 metres wide. However, this is an extreme example and smaller stands range from 1 metre wide to 2.4 metres wide.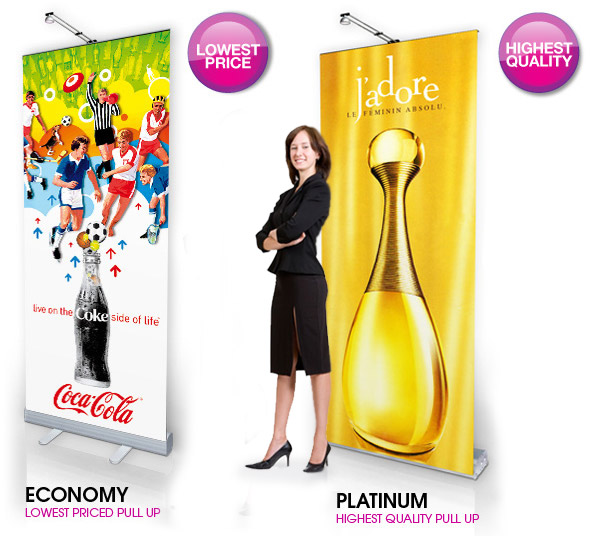 Choose The Right Size Banner Stands
The size of the stand required often depends on the space you have available to you.
What you may not know about roll up banners is the versatility that they have in an exhibition environment. They can be placed almost anywhere at the drop of a hat, ready for you to present to prospective clients. Also, if you choose a double sided display, there is even more you can achieve with your stand. When appropriately placed, a double sided roll up banners can drive traffic to your exhibition space at any event.
When looking for a banner stand supplier, there are a few points to remember –
1. Quality
Are the banner stands up to the standard you require? What material are they printed on? These are just two of the things to consider before you make a purchase. Some roll up banners are specifically designed to be used only once or twice so the materials and print quality are lower than standard, which is of course reflected in the price.
2. Price
The cost of a exhibition banner stands can vary greatly with some companies charging much more than others for what may be essentially the same product. Size can also be a major factor when it comes to cost. It is important to shop around and find the best banner stand for your requirements at the best price.
3. Hidden Costs
Does your supplier charge extra for items such as carry cases, spotlights and graphics? Always ensure that the total price you are quoted includes all of the things you need for your stand so you are not surprised by a nasty bill after you have confirmed the order.
Whatever you need roll up banner display for, make sure that you get what you need for a reasonable price. Your roll up banners are a reflection on you so you want them to be the best they can be, to be used time and time again.
---