Roll Up Banner Company
Wednesday, January 27, 2016
Roll Up Banner Stand Systems for Big Impact Displays
Stand banner product are extremely good and our roller banner which can be used in multiple locations for different events like trade shows and exhibitions, etc. You couldn't comprehend how many companies purchase these amazing roll up banner stands for venues that are based at London or Birmingham. For this reason we sell at least up to one hundred retractable roller banners each week. This makes it hard to get hold of them so come and get it while stocks last.
I would definitely recommend this for any product, because even the big companies praise this, and that shows how good it is. These companies who purchase the fantastic roller banners off us have no complaints and only complement and that shows not just you, but ourselves that our work is dependable and guarantees you wont be disappointed. Disappointed is the word for something that's not good enough but with our banner stand you will be familiar with success, more than anything else and that's a fact!.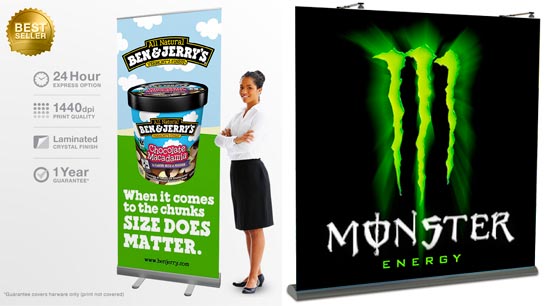 Get The Best Roller Banners In The UK
This awesome reliable, durable roller banner system has its way of lasting for years. The cassette design is super strong and will withstand damage for frequent use. You have more of a chance of it lasting 5 years, than breaking it in 5 days with out a doubt. The design and quality of the freestanding banner system wont disappoint, in our work shop the graphics from the printer is output at an amazing1400dpi resolution that is super high definition and is above standard for roller banners.
Please note that 90% of the durability which makes our roll up banners reliable is the laminated graphics, which protects the display from water and the UV inks protect the printed image from the suns rays. The solvent and dye based inks are durable and makes a massive impact to the life span of the print. Stand banner as a rule also laminate all of our printed panels, and that's shows how good our printing and end product is.
We have 30 years in the business we have put our banners to the test and it hasn't changed since the day we started the business since 1987.
Banner Stand Company
There's uncountable reasons why you should buy from us, this is, "is not to count us on our winners, but to count us on our losers as there is so few" and that's a fact. If we could show the ratio from the satisfied customers to the unsatisfied the difference would be less than 0.1 percent and that's provable. So with this in mind the only thing you have to do is trust and buy our products and get a life changing purchase.
We have been running for thirty years and always with positive impact for all our of customers and without doubt have never needed to come back, as we supply the most reliable banner stands in the united kingdom. Over years we have expanded our company to many different locations which is a positive response, that people believe in us and our products.
What Companies Use Roller Banners
The type of companies this product is designed for is endless, if you have a need to improve your business or generate brand awareness then this product is right for your company. The types of companies that have bought from us are the likes of Coca Cola, Nestle and so may more blue chip companies, not including your mid range independent concerns, your sole traders and and ltd company.
---