Portable Banner Displays
Make Your Exhibition Stall Outstanding By Using Portable Banner Displays
If you are taking part in a trade show or exhibition, you need banners to catch the attention of the people visiting your stall. Of course you have some very good products or services up your sleeve but you need to draw the attention of the public first towards your stall. It is only afterwards that you can impress and convince them through your communication skills. This is where Echo banners and roll up banner stands made from recycled aluminum and bamboo come to your help.
Look good and help the environment
Echo banners are digitally printed and contain high quality sharp images depicting the products or services provided by you. These banners are enough to catch the attention of the visitors roaming in the exhibition area close to your stall. What makes these banners special are the stands that are used to erect the banners in a matter of few minutes. Once erect, these echo banners can be used as walls to create the enclosure for your stall. You can also use these banners to stand by your side and talk to your visitors by showing them the graphics on the banners. Why not complement your stand with an exhibition counter to complete that professional look.
Salient features of Echo Banner Stands
They come in varying widths of 80cm, 85cm, and 1m
They have a height of 200cm
They have high quality digitally printed graphics
The stands are constructed with either recyclable aluminum or bamboo with aluminum stands being lighter than bamboo stands
Banner stands are guaranteed for their craftsmanship
All stands come with carry bags to make it easy for you to carry them to the venue
Use both these banner stands with pride and confidence as both are environment friendly. These stands are great for the use of companies that take pride in being environment friendly with very little carbon footprints. Both these banner stands are priced at £95 pounds but they cost you £114 pounds with £7 for shipping.
Mesmerize all the visitors to the exhibition by placing your banners on these banner stands in your stall.  These banners are portable and take just a few minutes to become erect like enclosure for your stall. Echo banners are strong and durable and provide full value for your money. They can be used again and again in exhibitions and trade shows to help in increasing your sales. Get the best exposure for your products and services by buying Echo stand banners today.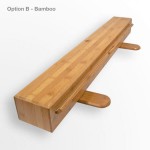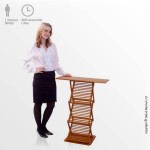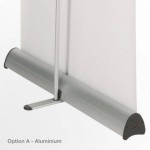 ---