Marketing Stands & Portable Displays
Tuesday, September 9, 2014
Marketing & Promotional Display Stands For Your Business
The term marketing stands encompasses a number of different display items, including stands for exhibitions, portable sales and promotions, advertising for products and services, and many more. We specialise in portable marketing stands that can be transported easily to events as standalone marketing displays, or as a small part of a larger display. For example, as part of a campaign to promote a product or service, a business will often exhibit at an event designed to promote a specific industry. These industry events, or trade shows, require any number of exhibiting stands and displays to aid in the promotion of the business. Banner stands, pop up stands and promotional counters can all be classed as marketing stands as they can be used as part of a marketing campaign designed to increase business.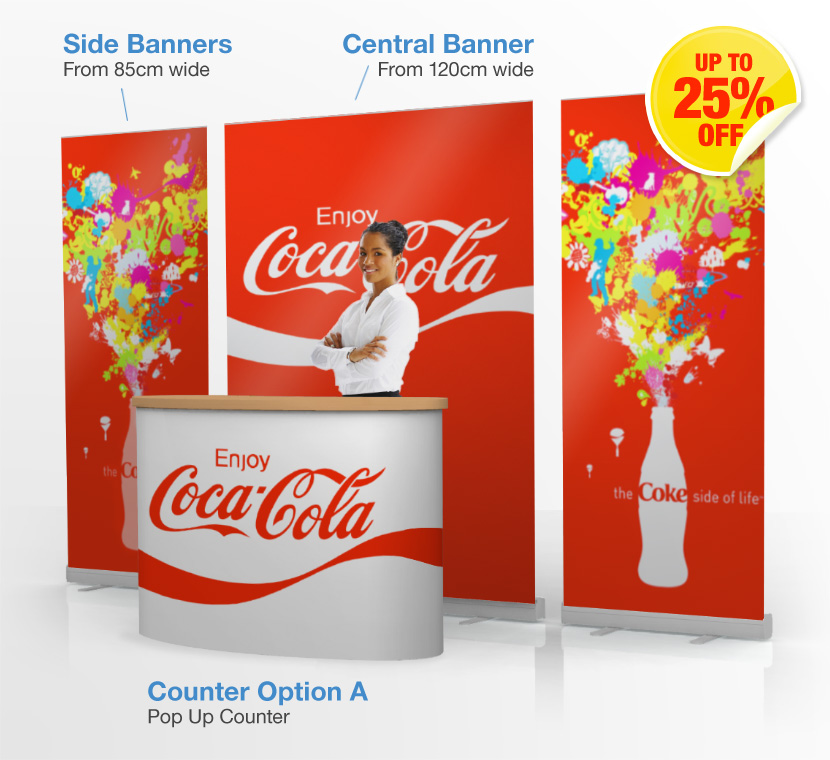 Exhibition Banner Stands for Marketing
Banner stands are a fantastic marketing tool as they can be used in a number of environments, including exhibitions and trade shows, but also for portable promotions such as point-of-sale displays in shopping centers and supermarkets. A exhibition banner stand's portability is its primary selling point as it is one of the only displays that has a large graphic area, is freestanding, but can be disassembled and transported without any special transit requirements. A standard size banner stand can be carried by one person to and from an event and is the perfect marketing tool.
Other Exhibition Displays
Other displays that come under the umbrella of exhibition stands include items such as portable counters. There are a number of different models available, some are designed for portability and others are designed for utility, with attachments for computer screens or iPads. Whichever you choose to use, each one will benefit your marketing campaign by enabling interaction between your business and its customers. Whatever you use to enhance your campaign, we can provide a fast, efficient service for the marketing stand you need.
---