Which? Exhibition Banner Stands
Thursday, February 6, 2014
Choosing The Right Banner Stand For Your Business!
Budget, Standard or Deluxe? – Which Exhibition Banner Stands is Right for You? If you're reading this then I'll assume you're already familiar with exhibition banner display and their primary function as an exhibition display item to promote your business at events and trade shows. You may also know that there are many different types of stand that are available, from cheap budget stands, industry standard models, plus deluxe high end models. What you probably want to know is 'which stand do I need?'. Here is a breakdown of the suitability of each stand.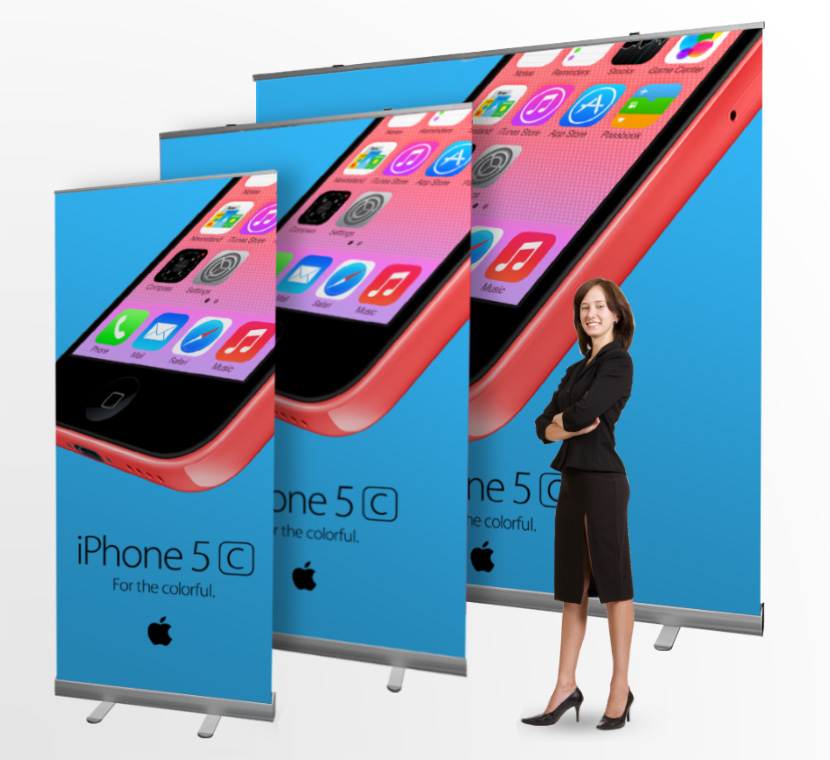 Roll Up Banner Stands
Roll up banner stands are the cheapest option to display at exhibitions and events. They usually come in sizes of 800mm or 850mm wide x 2 metres tall. The term 'budget' can encompass many different models of stand but they all have one thing in common; they are not meant for long term extended use. Usually, the quality of the graphic won't be as resilient as more expensive stands and won't last as long as a result.
The material that is used could be laminated paper which is very fragile or banner pvc which is susceptible to fraying at the edges. If you have an event to attend but you need to keep your budget restricted, then a budget banner stand will be ideal only if you intend to use it no more than a handful of times. Many people find this is the perfect option for their situation but if you want something more long term then a more expensive stand will be required.
Exhibition Banner Stands
The industry exhibition banner stands are 850mm x 2m pull banner stands. Roller banner stands are ideal for repeat use as they can be transported easily and stored easily when not in use. They should be made from lightweight aluminum which is resistant to knocks and bumps. The graphic is generally printed onto a tear resistant inkjet media, purposely manufactured for use on banner stands and similar display items. It is then over-laminated for extra protection. These stands will last for months or even years of repeat use if cared for properly, justifying the extra cost over budget banner stands.
Deluxe Banner Stands
The highest quality banner stands are usually brand name, heavier weight stands. As a general rule, the base unit of these stands do not have pull out stabilising feet which make them sleeker and more aesthetically pleasing. The graphic itself should be the same material as the standard model so there are no benefits in the quality of the graphic as such.
The main reason for opting for a deluxe model stand is aesthetics. If the way your company image is represented is of the highest importance then a deluxe banner stand would be the best option for you. In the end, the easiest way to choose the stand for you is to ask for the expert advice of your exhibition stand provider who should be able to offer you a choice of stands based on your requirements.
For more information or to talk free to a sales advisor contact Stand Banner.
---