7 Reasons Why Branded Inflatable Tents Are Better!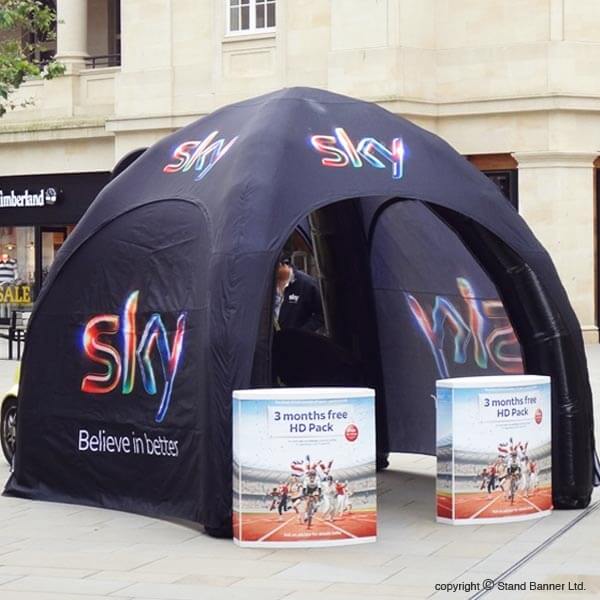 The Benefits Of Promotional Inflatable Tents
You are not the first person to picture yourself trying to maintain your privacy in one of those bubble tents. As cool as they are, they don't hit the mark when it comes to custom printed tents.
Inflatable tents are similar to camping tents. The main difference is that they don't have poles made of aluminum or steel. They are replaced by columns or tubes of air. When these air beams are inflated they provide excellent support to your tent. Tents are supplied with fully printed branded graphics, with your company branding and logo and printed in-house by Banner Stand.
Easy to set up
Unlike other camping tents, inflatable tents are easy to set up, even by a single person. You don't need a second pair of hands to hold things in place. This is especially important if you are camping with your family and have small kids.
Taking down inflatable tents is even easier. All you have to do is take out the guy lines and open the valves to deflate to the tent. Bingo!
Set up within minutes
Setting up an inflatable tent takes under 10 minutes, no matter how huge they may be. This allows you to set up other things like fire, barque, and more. Some people enjoy the experience of setting a classical tent.
Don't need an instruction manual to set up
You need to follow a 40-page instruction to understand how to set up your tent. Add in some hunger and impatiens, camping seems like a terrible idea. The best part about setting up an inflatable tent is that you don't need any manual or help from others to set up a tent.
Provide support in high winds
Inflatable tents do an excellent job even in high winds. Even the best-poled tents struggle in strong winds. Custom printed tents bend up in the same way as the steel poles, but inflatable poles don't get damaged or misshapes and they just pop back up to their original shape immediately.
Highly durable in bad weather
It may not take one storm to break your tent, but over time, the tent will weaken the poles and eventually break. Whereas, the tubes of inflatable tents are built from durable material that is designed to withstand bad weather. Though, it is advisable to always carry a repair kit when camping with an inflatable tent.
Easy to store
Inflatable tents are much easier to store compared to their solid counterparts. You don't have to carry tent poles when traveling. Simply roll away the tent and stuff it in the back of your car. For example: you are going for an event and you need to carry branded tents, inflatable tents will allow you to store more stuff in the back of your car.
Easy to repair
Though inflatable tents are made using durable materials. They are still vulnerable to punctures. This is why it is important to carry a repair kit. This kit makes the repair job easy and allows you to inflate your tent in no time. This also makes this tent cheap, as you don't have to worry about replacement poles.
---