24 Hour Pop Up Stands Express Printing Service
Stand Banner are the Uk's most reliable exhibition printing service based in London and manufacture a wide selection of portable display stands for events marketing and trade show exhibition stands. Express service available on all our pop-up's and even deliver within 24 hours to the UK and same day delivery to London.
Fast friendly and reliable service for companies that require 24 hour pop up stands and guarantee your display will be printed and dispatched for your important presentation or event. Unique service for customers let down by other suppliers or for companies caught out by one thing or another.
Simply e-mail or call our London office to check availability and we will do the rest. For 24 hour sales help line please call 0800 246 1352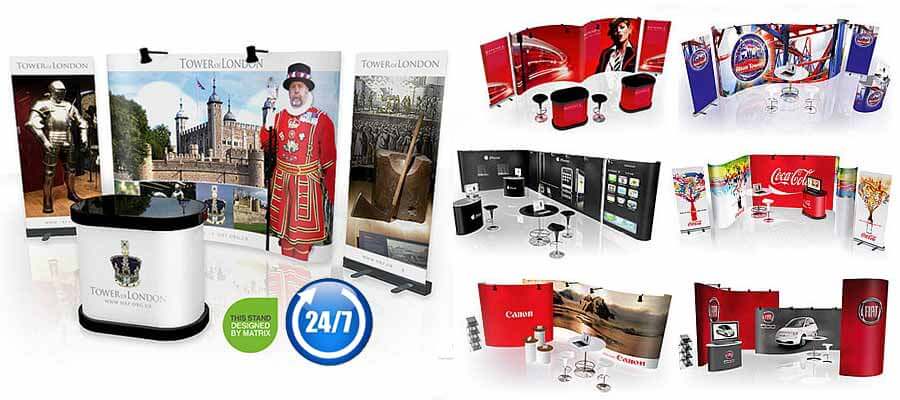 Exhibition Pop Up Displays Guaranteed Next Day
Are you exhibiting in London?. and need a exhibition printing company that can deliver on time guaranteed. Well look no further with many, many years experience and with nominations for awards in innovation and design, banner stand company are the company for you. Our trained staff are ready to take your orders and process it faster then any other company in the UK. With quality assurance and a skilled workforce we deliver on time every time.
Exhibition pop up stands are available in all standard configurations ready for next day use, from 3x3 pop up stand to 3x2 and whatever other size you need, including possible availability on corner pop up stands and even wave display popup's.
Next Day Trade Show Popup Systems
Simple and easy to erect your trade show display pop up can be delivered to any London venue or anywhere in the UK for hassle free exhibiting. Our stands are supplied with optional deluxe wheeled cases designed to make your experience as simple as possible, from start to finish including dismantling and storage.
Popup Systems create a an impressive backdrop when exhibiting and collapse into a convenient portable case ready for your next event. As the term implies popups simply pop up and all you need to do is apply your high quality 24 hour banner stand printing graphics to create a seamless back wall which is branded with your graphics.
Free Next Day Delivery London
We deliver all our products fast and even do same day delivery if you are based in central London and willing to pay for it. We can deliver you pop up display stands uk to any London event venue or hotel for your convenience within a matter of hours from ordering and supplying artwork. Stand banner regularly deliver to Excel, The Business Centre and Earls Court daily. Alternatively you could collect your stand from our London office.