Promotional Display Stands
UK Promotional Event & Marketing Company
If you want to promote or attend a exhibition or event or you are a new company with a new product and are looking for a high street or portable testing stand to attract new customers and improve your brand, then we are the company for you. With over 30 years experience in corporate branding and design for high street brands and retailers across the UK. From Gordon Ramsay to Stella Mc Cartney, they all get they're promo stands from us Banner Stand.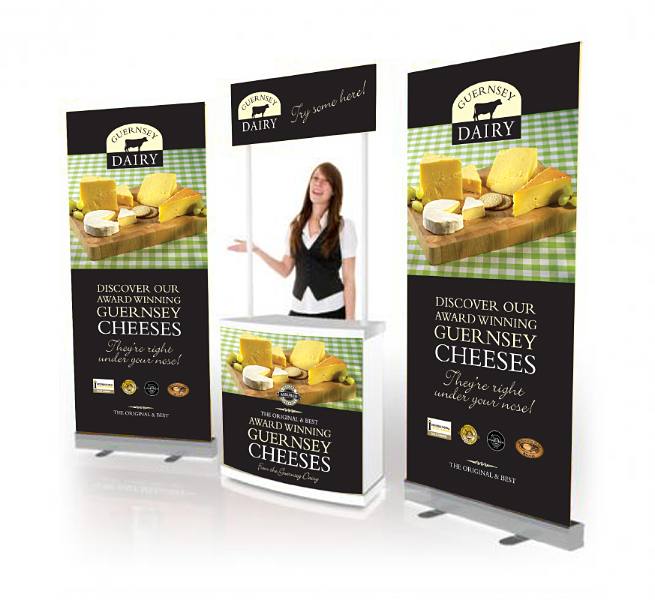 Portable Promotional Displays
Promotional display stands are designed for temporary, portable promotions in venues such as supermarkets and shopping centers in the UK. Trade show display stand is a general term for a display that is used primarily for the promotion of products and services, usually manned by one or two people. Our promotional display stand bundle is comprised of a promotional counter and a pair of 85cm wide banner stands. The promotional counter serves as a platform for product demonstrations and customer interaction, and the banner stands provide an eye-catching display, reinforcing a brand and advertising the display space. Promotional counter displays such as these are often associated with food sample stalls, especially dairy samples, earning them the nickname 'cheese counters'. Above is a well-designed example of this we manufactured recently. The counter has internal shelving which can hold lightweight items, and features a printed graphic base unit and header board for maximum visibility.
The banner stands provide more information on the product being promoted. As an economical, portable, reusable option for the promotion of products and services, this bundle is ideal. We have already supplied a number of the UK's most prominent companies with promotional display packages to enable them to effectively promote and market their items through the country. Design and Supply
We offer the complete one stop shop for portable mobile exhibiting of any product from simple tasting booths to sampling and even new product launch and screening. Our design and marketing team can liaise with your marketing team to make custom solution or even simple of the peg stands ready for next day use. All our products are branded with your company graphics ready for use and are completely portable and can be erected in seconds. and then stored for later use.
For free impartial advice on any of our products call 01639 895694
---