Inflatable Advertising Displays For Product Promotions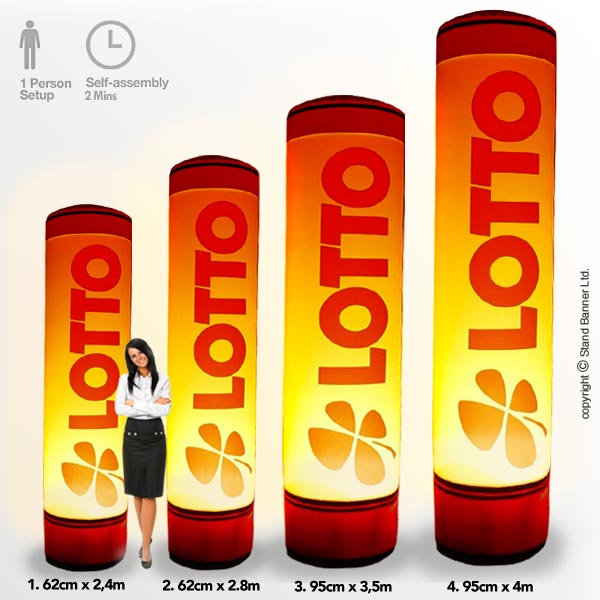 Inflatable Advertising Displays Commonly Used For Outdoor Marketing And Retail Promotions
Stand Banner is pleased it be able to offer you this high-quality inflatable advertising product. We at stand banner strive to offer you the highest quality products on the market. we understand the importance of enhancing your customers and improve your advertising that is why we use only the best quality products that we are confident will attack more custom no matter what your brand is. Banner Stand is pleased to offer this Custom printed inflatable advertising displays, perfect for both indoor and outdoor advertising, Freestanding and steady, this product comes with a 7-17kgs floor weight. We as a company work closely alongside both large and small companies that have purchased these large impressive totem signs with custom graphics, available om four different sizes, from 62cm wide x 2.4m tall to 95cm wide x 4m tall available in whatever size you desire to meet your advertising needs. Commonly used by all security of different businesses such as; Retail, Sport, Restaurant, and Leisure. this simple advertising is perfect for those who either want to attack those additional customers or want to apply that additional attraction to your company, that bypasses are sure not to miss, companies that have purchased this simple transportable advertising are, Frankie's & Bennie's, Curry's PC World, London dungeons and many more. We at stand Banner believe in simple advertising attracts additional custom. The inflatable is simple and easy to erect, taking less than 5 minutes. Easy to inflate and deflate, can be transported easily and stored, Supplied with pump and custom printed graphics.
Exhibition Printing & Graphics By Stand Banner 
All of our products at stand banner are printed and manufactured in house, this gives us full quality control through every process. we take pride in our printing that is why we are one of the leading printed graphics companies. Each product is closely monitored. We have specialised team for each section of the process to ensure that your products are printed and manufactured to the highest standard possible. We strongly believe in supporting our economical system that is why all of our products are printed using HP latex inks, they are non-toxic and odorless. The inflatable displays stand comes with custom printed graphics, 600dpi custom printed graphics (B1 fire certification.) graphics are interchangeable at a charge if you would like to change the graphics depending on your promotional item that can easily be done. carry case and weight is included, a UK 230v main electric required. For more information on inflatable advertising signs please visit our website.
International & UK Delivery
Stand banner has a specialised team who work with customer service and deliveries, they ensure that all of your parcels are where they need to be in the world. Our delivery system is quick and easy, we use only the best delivery service work wide, they are quick and reliable. As for connections worldwide, we have many connections with companies all around the world such as in the UK, the USA holding sporting events, and all over Europe. We have a quick reliable delivery service with all our delivery companies offering next day delivery all over Europe and the UK.
---