Super Wide Banner Stands
Thursday, February 6, 2014
Wide Banner Stands Make A Bigger Impression
Super wide banner stands are great for making a big impact at trade show exhibitions, events, conferences, award ceremonies and general portable marketing, when you need to make a big impression or statement or stand out from the crowd. We design print and manufacture the widest and tallest roll up banner stands in the UK and we not only that we can produce them within 24 hours for next day delivery.
We can print super wide banner backdrops up to 3 metre wide by 3m tall for companies that really want to stand out and we print at astonishingly high resolution so logos and photos appear life like and super sized. Order your big banner stand before 10am and receive your wide banner stands guaranteed for next day delivery, ready for use and ready to impress. We also offer a design service if you need a trophy wall or sponsors logo printed repeatedly.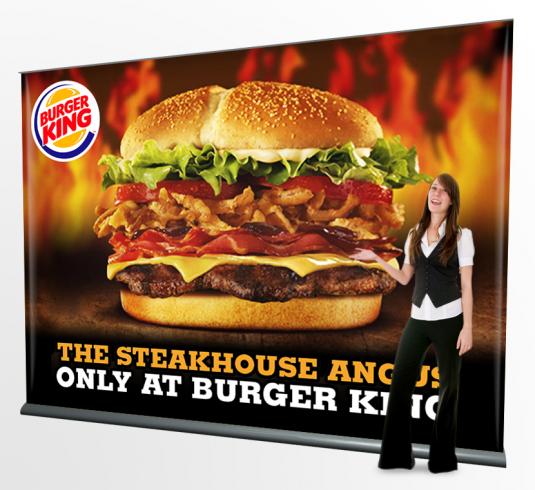 Wide Banner Stands London
Stand banner produce many kinds of portable banners for all your marketing and exhibiting needs and we produce a range of banners considered to be large tall or wide and demand more attention than standard sizes width or heights. These stands are commonly used for product launches seminar back walls for photo opportunities.
We are a London based deign and print company supplying all your exhibiting, branding and marketing needs, based near Richmond in London. for more information on all our products and services please click on the links above. Alternatively please call or email us with your question or inquiry.
Big Is Better
The bigger your stand is relative to the size of your exhibiting space the greater your impact will be and so in theory the greater your return will be from a trade show. What you need to do is dominate over other companies, make them inferior or smaller than your brand, make potential customers, remember you and not the competition. At Banner Stand we can help you achieve that through Professional exhibiting stands and a superior understanding of this discipline.
---